Where To Eat In LA
Best Coffee Shops in LA
As a Los Angeles local I have my favorite little spots.  Born and raised in this beautiful city best known for beach weather, palm trees, and the glitz of Hollywood, there are certain foodie jaunts I can't do without.  You don't have to break the bank to enjoy some of LA's best eating establishments and experience foodie life like a local.  
Here are my top coffee shop picks:
Cafe Buna – Marina Del Rey
Patys Restaurant – Toluca Lake
The Original Pantry Cafe- Downtown Los Angeles
Swinger's Hollywood – Los Angeles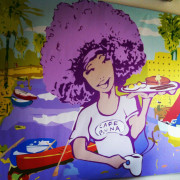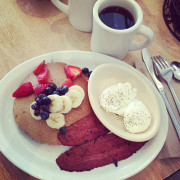 CAFE BUNA- Cafe Buna is located on Washington Boulevard in Marina Del Rey, not too far from the Venice Boardwalk or Santa Monica's 3rd street Promenade.  My go-to items are the buckwheat pancakes with fruit, the grilled cajun chicken breast, and the turkey bacon.  My husband loves the chorizo and eggs, and the patty & tuna melts, sometimes a panini, or a scramble.  You get the picture, everything on the menu is delicious.  Yes, hard to believe that such a diverse menu serves up each dish amazingly- but it really is that good! There may be a line out the door and down the street but it is worth the wait.   
Also, love love love the coffee.  If I'm making a very special care package I'll send it off with Cafe Buna's house coffee, curated by the ever discerning and darling owner Karen Ball.  Hands down my favorite coffee shop in LA and my #1 pick.  Foodie Heaven.  (They are open for breakfast and lunch only)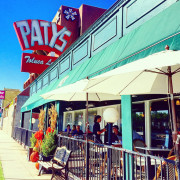 PATYS RESTAURANT- Patys Restaurant in Toluca Lake is an institution.  Located in a nook of Los Angeles close to Burbank & Universal Studios, you are bound to see just about anyone at this landmark coffee shop where they have been serving up great eats for well over half a century.  I'll grab a seat at the counter anytime even if  tables are available.  With a fascinating history and tasty dishes Patys is a Los Angeles can't miss for foodie travelers.  Love Patys.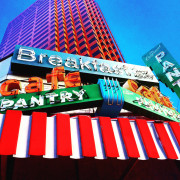 THE ORIGINAL PANTRY CAFE- The Original Pantry Cafe in Downtown LA is an historical landmark established in 1924.  If you are looking for an excuse to take a drive into Downtown Los Angeles and arrive at a foodie lover's destination then this is your place.  The Pantry is always open, always.  There's even sign outside that says there's no lock on the door because The Pantry is open 24/7.  They serve up traditional breakfast and coffee shop favorites.  Expect a line but it moves fast.  I love the counter and always go straight for it, even if they have tables open.  Watching the rhythm, the hustle and bustle, and the serving up coffee shop-grill/kitchen greatness is a treat in itself.  Cash only.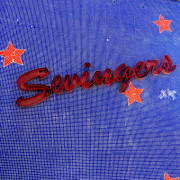 SWINGERS- Swingers Hollywood is located on Beverly Boulevard not too far from the famous Beverly Center shopping mall, The Sunset Strip, and Melrose Shopping area.  When I lived in West Hollywood this was my ultimate favorite coffee shop breakfast spot, and if I still resided in the neighborhood it would be my locals choice.  Even though it has great traditional favorites it is not your usual restaurant.  This place has got a fun retro vibe AND modern edge.  Swinger's has its own little twist of style.  If you find yourself in the neighborhood this is the foodie find!