Constant travel can make healthy eating a challenge, but there are ways.
Last night I approached the restaurant manager at my hotel and asked if they happened to have certain ingredients and if it wasn't too much trouble, I had a special request. The reception was a cozy one.
I'm not really a big fan of pasta, but from time to time I'll go there, especially if the pasta noodles are freshly made, but it's not something I crave or find irresistible, or even eat regularly. But last night I was craving Italian seasonings and garlic.
There is this dish I make at home, I call it "Italian Stir Fry." For seasonings I use shallots, chili flakes, olive oil, basil, and garlic. The preferred protein is white meat chicken. To start, throw your veggies into the mix- tomato, sun dried tomatoes, red or yellow bell peppers, broccoli, zucchini, and green beans.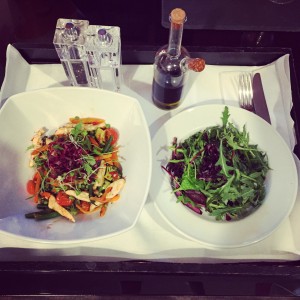 The head Chef and restaurant manager at the hotel where I am staying were SO NICE about this and they were more than happy to accommodate me, especially since I am staying in the hotel for one month! And unfortunately cooking for myself during this time is not an option since I do not have access to a kitchen.
Of course I was alright with using whatever vegetables they had on hand. I ended up with chicken, broccoli, sun dried tomatoes, cherry tomatoes, peas, green beans, and carrots. They had all of the seasonings except for shallots but it mattered not. This dish tasted so delicious there was nothing left on my plate but olive oil. The only thing I didn't want, no matter what, was butter, salt or potatoes, and they were more than happy to accommodate.
It is funny, yes, to order an "Italian Stir Fry" but the result was delicious, my tummy and taste buds were happy, and the whole meal was still figure friendly.
The moral of the story here is when there's a will there's a way, especially of you ask nicely!
Xo
K