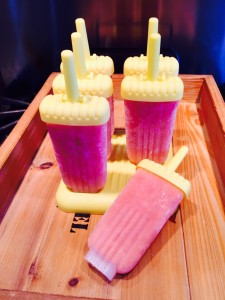 Vegan, Gluten Free, Sugar Free, Dairy Free
 KATRINA'S KITCHEN ORIGINAL RECIPE
Ingredients:
Fresh Whole Peaches 5-6 (roughly 2 pounds)
Dried Lavender 1/4 teaspoon
Tahitian Vanilla Powder 2 pinches
Water 1/4 cup
Coconut Water 1/3 cup 
 Preparation:
Take two pounds of peaches, remove the pit and cut into quartered wedges, then place into food processor with the skin on.  Give it a good buzz- but no need to make it totally pulverized.  Some small peach chunks will work nicely for texture.   
Pour the mixed peaches into a large saucepan, add seasonings and 1/4 cup water.  Cook on low heat for 35 minutes, stirring occasionally.  Let cool.  Once cooled stir in 1/3 cup coconut water.  
 Fill popsicle molds with Peach mixture and freeze.
 This is a delicious healthy frozen treat.  It is a dairy free, gluten free, and vegan friendly recipe.  There is also no sugar added at all, making it naturally sweet and figure friendly.  
 If you have peach mixture leftover, refrigerate and eat cold as peach sauce.  This peach sauce will also pair perfectly with my Guilt Free Granola in a parfait along with some plain Greek Yogurt.  
 Yum.  All of this foodie chat is making me hungry.  Let me know how your Peach Pops turn out, what ingredients you use to customize your recipe to taste, and share how you make use of your peach sauce leftovers!  
Xo
K