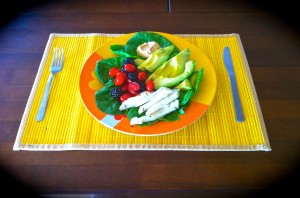 Healthy Plate in Mexico
​As you know by now I love Mexico. When we travel to Cabo San Lucas we stay in a house which, happily for me, includes a kitchen. Cabo's Costco in particular may be the only Costco in the world with an ocean view parking lot, including the fabulous sight of Land's End. If the trip lasts for 4 days or more it is worth taking a trip to Costco. On shorter Cabo trips we just hit up a local market for some basic supplies.Next time you are in the produce section of your local market near home take a look to see where the fruits and veggies are grown. Don't be surprised if the majority of fresh edibles are "Pruducto de Mexico."
When I am in Mexico I make it a point to buy only Mexican produce and dairy. It tastes so good. Sticking to this guideline means I may leave the store with not exactly what I had in mind, but it will be fresh and it will be tasty!
This trip I bought blackberries, grapes, blueberries, sugar plum tomatoes, lettuce, a bag of avocados, a bag of limes, cheese, unsalted mixed nuts (nueces), Mexican bubbly water called "Topo Chico," coffee, hummus, milk, eggs, and yogurt- all Mexican products.
With these basics it is so easy to eat clean and healthy and also not be bound to eating every meal out in a restaurant. We tend to have breakfast a la casa, and why not, when breakfast in your own kitchen comes with a view of Land's End. I wash large amounts of fruit ahead of time and set it on a plate with a paper towel underneath so the fruit will continue to dry and not get soggy. I have noticed when I pre-wash the fruit we eat more of it. This way when you open the fridge fresh beautiful clean fruit stands out as an easy to grab healthy snack. Breakfast is a snap too. Since the fruit is already washed we just boil up water for the coffee and pour yogurt over the ready to eat fruitas frescas.
Some of you may say, "But I don't have a kitchen where we are staying!" Yes it's true, most hotel rooms have no kitchenette. If your room has a refrigerated mini bar, ask the hotel staff upon check in to please empty it out for you. I have yet to encounter a hotel that refuses to do so. Or you could alternatively, request a little refrigerator. Most hotels have small refrigerators available upon request for people who travel with medication and they may have an extra, so it never hurts to ask.
Visit a store and pick up a few basics like yogurt for breakfast, your favorite fruit as a snack, and maybe even a roll of paper towels for a hotel stay lasting 4 or more days. If you are buying any produce which requires washing, like grapes or berries, you will be happy you invested in the paper towel roll. You can save quite a bit of pocket change by simply having one meal a day in your room, anywhere from $12-$35 per person a day depending on destination and currency exchange rate if one applies, especially when breakfast is not included as part of your stay.
A few times on each trip away I concoct a healthy plate. See the photo for inspiration on how to make your own healthy plate, whether it be on your travels or at home. The basic lesson learned here is, being on the road or away from your kitchen doesn't mean you have to blow your caloric bank just to get through the day's necessary sustenance. I like to save my splurge calories for a true splurge. In Mexico my splurge is Mexican brand ice cream, and pretty much any kind of house sweet baked goods or bread.
So this is why I swear by a…
Healthy Plate!
Xo
K